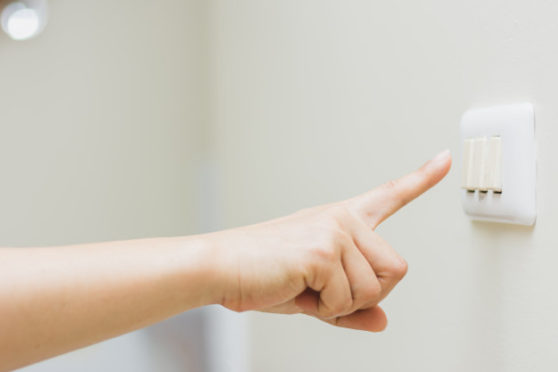 No matter how small or huge they are, the human eye almost always seems to spot a light switch even a couple of meters away. Knowing that light switches are tactile and are meant to be shown, highlighting them is a lot easier than concealing them.
With a little bit of decorating and appliance positioning, however, you can achieve the clean, seamless look of your walls and countertops without these hugely thick and prominent light switches. Below are some tricks to achieve them:
Mount them beside or under your cabinet

This is an excellent method if your home is under construction or renovation. By tucking your light switches at the underside of your shelves instead of directly showing them up to your walls, you can easily achieve a clean and contemporary look with minimal effort. In addition, you can easily reach them out but keep them out of sight when not used.

If you're working with a bathroom, however, you can even prop them beside your vanity to keep them reachable while immediately staying out of your sightline. You can even take the extra mile by tucking a toilet paper roll holder onto the same side for a sophisticated, hotel-chic aesthetic.

Put them behind a storage vessel or an attractive vase

If you have no immediate plans of renovating your home just yet, you can always opt for decorative storage boxes or vases placed in front of your light switches. For light switches placed atop kitchen counters, you can even use a small cutting board prop up against a wall.

Have your appliances in front of them

Especially if you have light switches in your kitchen or living room, one of the easiest and most convenient ways of hiding them is by placing a sleek, clean-looking device in front of them. Just make sure that the cables of your appliances are tucked away and nicely twist-tied
In summary, among the easiest ways of hiding light switches is by locating them in places where they won't be naturally seen in most angles. But if you're living with someone (or you, yourself) who needs immediate access to light upon entry, you wouldn't want to conceal them so much so as to inconvenient your residents.
If you want to take extra steps, did you know that there are actually concealed light switches specially designed to be seen or hidden as you please?
Using similarly-colored or –textured material

If completely hiding your light switches doesn't sit right with you, one of the easiest ways is to simply match the color of your switch plates with the material or wall that surrounds them. For example, standard white switch plates are perfect for white walls, mirror switch plates are ideal for high-gloss tile or mirrored backsplash. However, you can always opt for differently-colored switch plates to match the rest of the colors or materials in your house.

For those looking for a construction-free option, hiring a skilled painter to paint your standard light switches with a matching paint will do the trick. This method is perfect for those looking for a slightly lower-budget option while still keeping your light switches camouflaged against your walls.

"Tiled-in" switch plates

Possibly the most camouflaged method you'd ever encounter, some tile and stone manufacturers provide "tiled-in" switch plates which are made from exactly the same material as the tile you purchased. Not only this allows you to have completely flushed light switches but also prevents your walls from having a jarring visual clash
PhilBIG PICKS: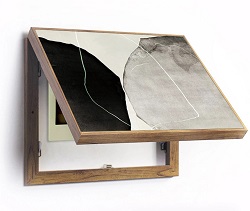 1. Métier Home Hinged Wall Art (for Panel Box)
Composed of different designs, our Hinged Wall Art will not only liven up any wall but will sure keep every eyesore that you want to hide. Use these paintings in hiding exposed panel box, safe, etc.
Printed canvas
Wood Frame
Sold individually
Imported
---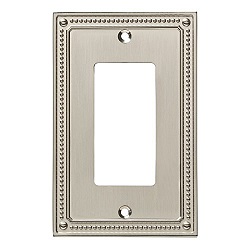 2. Franklin Brass W35060-SN-C Wall Switch Plate, Single, Satin Nickel
Decorative wall plates are a simple way to transform the look of any room. This collection is available in today's most popular finish options. Additional configurations are available to make completing your project easy.
---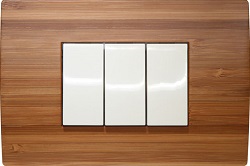 3. TEM.ph PURE
The Pure switch line is distinguished by its natural materials: metal, wood and glass. Its unique design gives it a special touch. It is striking yet unobtrusive. It radiates sensuality, sophistication, high standards and, of course, cleanliness.