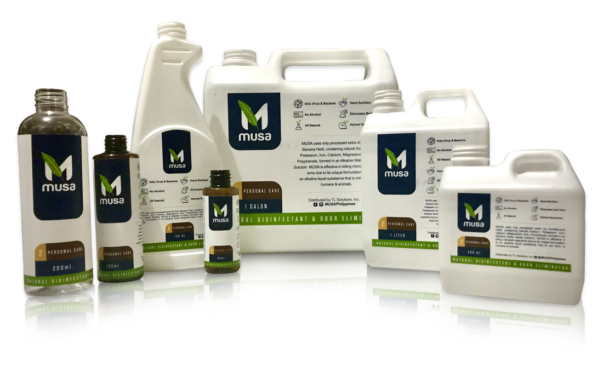 MUSA uses only processed extracts from Banana Herb, containing natural Sodium, Potassium, Iron, Calcium, Magnesium, Zinc, Polyphenols, formed in an Alkaline Water based Solution. MUSA is effective in killing microbial organisms due to its unique formulation in an alkaline liquid substance that is not toxic to humans & animals.
Disinfectant with the unique composition of mineral ions in an alkaline solution, along with polyphenols with its anti-bacterial properties makes MUSA an effective alternative to synthetic chemical disinfectants.
​
All Natural use of solutions naturally found in nature such as plants, air, water, and sunlight, leading to a more synergistic approach to addressing disinfection from bacteria and viruses.
Address: 312 Sunshine Square Bldg., (Beside PureGold)
Shaw Boulevard, Mandaluyong City, 1552 Philippines
Mobile: +637 917 8017911
Tele-Mobile: 245-5833
Email: [email protected] | [email protected]