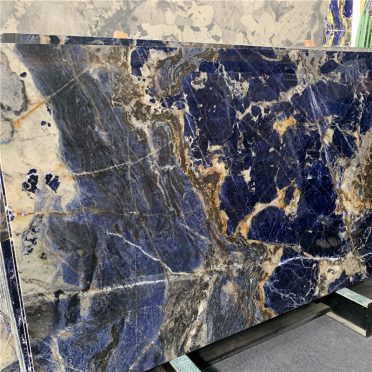 The background has a bluish tint, with visible white texture patterns like the surface of the ocean wave. These beautiful markings feel endless as the vast sea, as the sea is open to all rivers, large, deep and steady, seemingly cold and do not break the temperature, that is the value of valuable natural marble.
The stone has a hint of nobility and feels luxurious. Suit with any style and soft outfit collocation, be used at setting wall adornment can make or fashionable or elegant space atmosphere easily.
Popular Sizes
Big slab: 2400 upx1200up mm,thickness 1.6cm,1.8cm,2.0cm.
Vanity top: 25″x22″,31″x22″,37″x22″,49″x22″,61″x22″,ect. Thickness 3/4″,1 1/4″ Any drawing can be customize made.
Countertop: 96″x26″,108″x26″,96″x36″,72″x36″,72″x36″,96″x16 "ect Thickness 3/4″,1 1/4" Any drawing can be made.
Stair Step: 100-150×30-35×2/3cm Riser100-150×12-17×2/3cm
Specifications
Polished degree: 95 degrees or up.
Thickness tolerance: +/-0.5mm.
Diagonal tolerance : +/-1mm.
Surface flatness tolerance: +/-0.3mm.
Adjacent edge verticality tolerance: +/-0.5mm.
Precise Cutting by infrared-ray-cut machine.