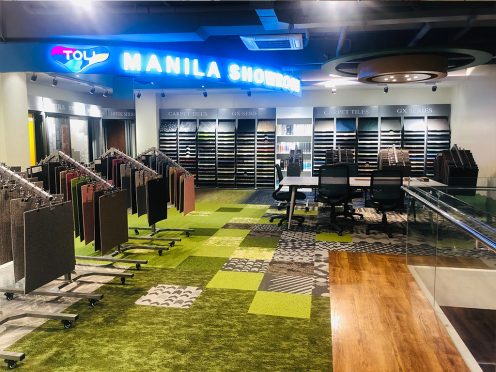 TOLI Carpet Tile
TOLI is made in Japan with a lot of design choices, durable, strong and exquisite. We make high quality product that can satisfy our customer. TOLI carpet tile is certified according to "ISO14001" for carpet production.Won the prize of "GOOD DESIGN/LONGLIFE DESIGN AWARD" for the carpet tile product "GA-100 SERIES" 2015 "GX-SERIES" 2016All 100% nylon carpet tile products from TOLI are "Cri Green Label Plus "certified.
TOLI
By developing products such as vinyl tiles, vinyl sheets, and carpets, TOLI became recognized as a major floor covering company. Later on, TOLI also began to make curtains, wall coverings, and many other products, and become successful as a general manufacturer of interior goods.
We make every effort to be customer-oriented, striving to run our business by always keeping our customers' needs in mind in order to become an even more dependable and trustworthy.
MADE IN JAPAN
The history of "TOLI" originated with the production and distribution of "YUTAKA-ORI" back in 1889."YUTAKA-ORI" was the elaborate designed plain-woven rug using rice straw.
It was exported to overseas as a valuable handicraft at the time, which had greatly contributed to the economic growth of modern Japan.
Since then, "YUTAKA" is a significant name to us, which stands for "Origin", "Tradition", and "Pride" of TOLI Corporation. After more than one century from that era, "YUTAKA" has been revived as the carpet tile product "YUTAKA collection".
We TOLI Corporation have persisted in "manufacturing" over a century, and all our
technologies are condensed in this "YUTAKA collection".
We believe TOLI carpet tile "YUTAK A collection" will definitely contribute to the creation of sophisticated spaces.
YUTAKA2000 
YUTAKA 2000 is a design-oriented modular carpet.
YU-2100 "URBAN HARMONY", featured by its high-quality deep striped pattern, harmonizes well with stylish furniture, and creates a highend urban office space. Y
U-2200 "NATURE CRESCENDO" has vibrant gradation inspired by expressive nature. Beautiful colors symbolizing ocean, forest, and ground will stand out more in spacious areas.
YU-2300 "EARTH RHYME" owns refined pattern made by overlapping many lattice designs. Earthlook texture will create a unique rhythmic floor image, just like a rhyme.
Stylish office space and elegant hospitality atmosphere can be effectively created by YUTAKA 2000.
Toli Carpet Yutaka Collection
Ria Pante
+639171858699