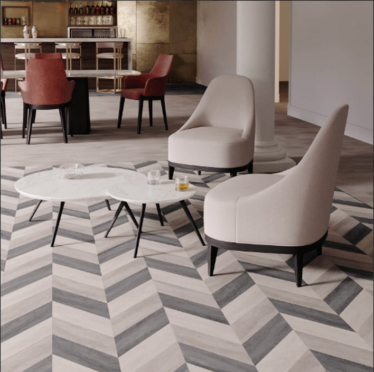 The unrivalled range of Luxury Vinyl Tiles (LVT) at Amtico, coming in a range of palettes and patterns, will bring your flooring vision to life. Through its adaptable collections, you can mix and match laying patterns or experiment with borders and motifs to give you endless combinations with its unrivalled choices of long-lasting Wood, Stone or Abstract flooring.
Amtico is not only beautiful but flexible, durable and sustainable. They are the market leader and the choice of designers, architects and developers across the globe. The original manufacturer of LVT.
Designed & made in Britain
Design talent, innovative manufacturing processes and precise craftsmanship are at the heart of Amtico. With a solid reputation for expertise and skills, Amtico's luxury flooring is crafted in its specialist factory in Coventry, England, and known around the world for its genuine provenance and quality. More than 50 years of experience goes into every Amtico floor. That is why Amtico can give a minimum 20-year warranty.
Outstanding Quality
Amtico uses the industry's most technically advanced layering system. It has several ply or layers which are pressed then CAST, unlike all other vinyl tiles in the market which went through ordinary pressing. Amtico devised a complex blend of particles which gives the appearance of poured resin. With its tough 1 millimeter ceramic-impregnated wear layer combined with engineered heat-compressed layers, it boasts of extreme resilience and a lifetime warranty.
For a flooring this durable, it's a small price to pay. Optimum Brands Inc. (obi) is the authorized distributor of Amtico LVT in the Philippines.
Contact Details:
CP Numbers: +63 9178005872 / +63 9328648391 / +639228505872
Phone: (02) 8635 0515 / 79668765
Website:www.obiasia.com
Facebook:www.facebook.com/OptimumBrandsInc.OBI
Amtico
Kim Subido
+639175777649