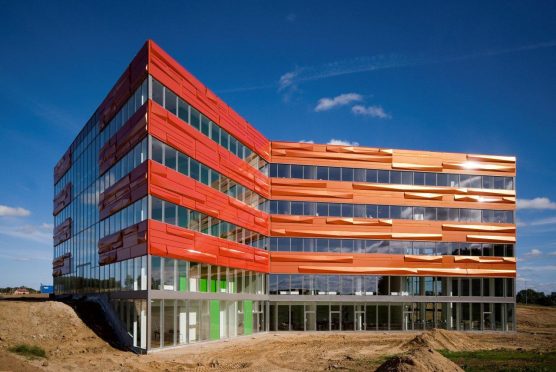 ALUCOBOND® spectra colours operate on the same principals as natural colour shifting surfaces. Depending upon the pigment type and viewing angle, different wave lengths of light are reflected back to the audience resulting in an ever-changing colour gradient with iridescent highlights.
With their bright sparkling and shining metal effects, ALUCOBOND® sparkling colours provide a subtle and elegant impression. With ALUCOBOND® spectra & sparkling colours, architects can create a truly memorable experience that will fascinate the audience and provide a lasting personal impression. The use of high-quality Fluorocarbon paint systems applied in a continuous coil-coating process ensures that the oiginal design isn't compromised.
Brilliant, iridescent colours found in nature were the inspiration for Spectra colours. Through special colour pigments, various colour gradients of gloss and depth are created. Depending on the type of pigment and viewing angle, enchanting colour effects with highlights and interesting colour gradients add new visual dimensions.