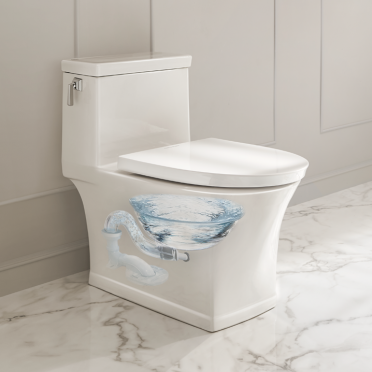 Today's bathroom is no longer just a pure functional space, but a modern expression of relaxation and user comfort. With the Signature™ Collection by American Standard, your intimate bathroom space is defined to be both pleasing on the eye and comfortable for the user. Proportions and thickness of each fixture are carefully refined and pared down to present a lightweight appearance that blends more seamlessly into the bathroom architecture, with no sharp corners.
SIGNATURE™ collection–
By American Standard
This latest collection is a modern display of the brand's three design signature elements Frame, Pillow and Line to form the Superellipse – a geometrical element used to shape the collection's soft minimalist look and feel. The Superellipse design presents no hard edges on the faucets, bath/shower fittings, basins, vanities and even the toilets, making each product a delight to handle and a sight to behold.
The collection's flushing technologies demonstrate true engineering superiority. The SiphonMax Flushing System provides maximum flushing performance with minimum water usage, made possible with PowerRim in its One Piece Toilet while the Double Vortex Flushing System ensures a powerful flush for its Close-coupled Back to Wall, Back to Wall and Wall Hung Toilets with the integration of HygieneRim. All the toilets come with the award-winning AquaCeramic to prevent any accumulation of stains and ComfortClean to eliminate harmful bacteria. To top it off, the innovative CrystaSleektoilet seat and covers are only a mere 30mm thickness, offering you the desired ultra-slim look without compromising on durability.
Have fun while showering by toggling easily between spray modes with just a click of the EasyClick button on the hand shower. And if you are sharing the shower with family members of different heights, the patented EasyGlideshower holder ensures a smooth and quick-adjust in one twist-and-go movement, with just one hand. By mixing air into water, the Airnergize technology in the hand shower saves precious water while delivering a luxurious shower experience. Conveniently, the Signature™ Rainshower Kit features a 3-in-1 diverter easily switches between all 3 modes with just a turn of a knob.
Caring for consumers is inherent in American Standard's products. The Signature™ collection low lead basin faucets contain 6 to 8 times less lead content than conventional faucets, providing maximum protection for your loved ones' health. Each faucet is individually hand-polished with DuraShine – a coating for long lasting protection andbrilliance. Aesthetically, the basins in the collection exude a thinner, sleeker silhouette with ThinEdge ceramic technology.
User comfort takes priority in all the fittings too. With rounded edges on all the fittings, these contoured curves provide ergonomic care, comfort and safety with an inviting touch. Engineering the use of a German cartridge on both faucets and shower fittings, the ComfortMove technology promises smooth and precise handling movement for just the right amount of water, every time. With just a simple angle tilt on the basin faucet nozzle, the Comfort Angle assures a splash-proof experience.
The Signature™ collection offers a whole suite of mono and mixer basin faucets, exposed and concealed bath and shower fittings, countertop basins and vessels, and an arena of toilets and vanities that will fit any bathroom size and style. A collection that is created to reflect good sense and great style.
KEY FEATURES AND FUNCTIONS
TOILET

SiphonMax*One-Piece Toilet only

Dynamic vacuum mechanism with side water jets create a powerful swirl to evacuate both heavy and light waste.

Double Vortex*CCBTW, BTW, WH

Maximum flushing performance, minimum water usage.

Aqua Ceramic

Super hydrophilic technology prevents dirt and dark ring stains from sticking to ceramic surface.

ComfortClean

Effectively clears E.Coli bacteria according to tests done with IMSL.

PowerRim*One-Piece Toilet only

Combined with our advanced flushing technology, this rim design eliminates hard-to-reach surfaces for an effective removal of dirt and stains.

HygieneRim*CCBTW, BTW, WH

Truly rimless, cleaned in just one swipe.

Crystasleek

Sleek, slim and durable seat and cover for a timeless style.

BASIN FAUCET
Low Lead

Minimal lead content provides better health protection compared to standard brass.

ComfortMove

Smooth handle performance for optimal precision and comfort.

Comfort Angle

Adjustable water flow angle for a comfortable, perfect splash-proof experience.

DuraShine

Shiny chrome finishing gives an enduring brilliance.

BATH & SHOWER FITTINGS
ComfortMove

Smooth handle performance for optimal precision and comfort.

EasyGlide

Hand shower holder that allows you to easily adjust its height, single-handedly.

DuraShine

Shiny chrome finishing gives an enduring brilliance.

EasyClick

An instinctive button for switching between spray modes.

EasyClean

Allows easy removal of limescale, mold or dirt.

Airnergize

Air-infused water provides a luxurious shower experience while using lesser water.

BASIN
ThinEdge

Enables us to produce thinner profile on ceramicware on toilets and basin without compromising on durability.
American Standard
Lixil Water Technology
+6328933113