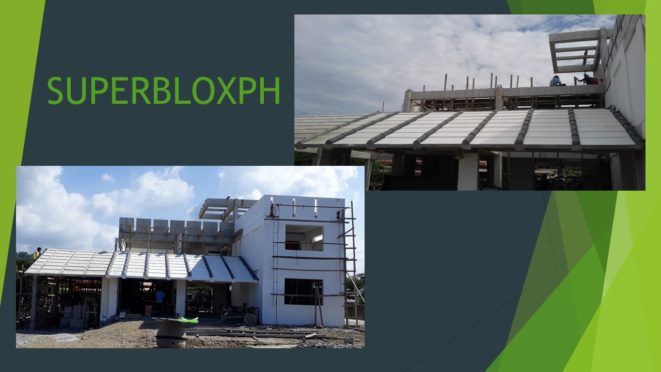 What a great way to start building your stronger tomorrow! 
Superbloxph's precast composite blocks are just right here. Lightweight. All-year natural-disaster-ready. Durable and cost-effective precast composite blocks for all the ways you build.
SUPERBLOXPH offers an award-winning invention Prime- Precast composite blocks and has been awarded as the Outstanding invention of the year (2015).
Superbloxph offers you the latest construction innovation which would enable the speedy construction of your on-going/ future projects. 
What makes Superbloxph stand out?
Lightweight easily transported and installed

high thermal properties

FIREPROOF

1,350 -3,000psi, durable and highly compressive

Seismic strength 7.5 magnitude

Water-resistant

Wind load 285-300km/hr

High sound absorption

Bullet Resistant

Faster Construction

Eco-Friendly

Requires fewer mortars
Standard Block
Available Panel Size:
500×500 mm, 500×100 mm, 1000×1000 mm
Available  Panel Thickness:
100 mm, 150 mm, 200 mm
Ensure your loved one's safety. Enquire now!
Operations Head: Mr. Vince Manalac
Contact no: 0945 398 6988
E-mail Address: [email protected]
Brand: Superbloxph
Links: https://www.facebook.com/Superbloxph-107934024150618
IG: SuperbloxPH
Office Address: 15th Ave. Cubao, Quezon City
Superbloxph
Superbloxph
+63945 398 6988